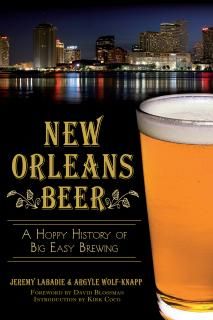 "The authors - Jeremy, a celebrated local beer blogger known as "The Beer Buddha" and Argyle, an astute historian and tour guide - have distinctively different styles, but blend well to present the full (and often quickly changing) landscape of the brewing history of this city, once the beer capital of the South."
Mark Burlet- New Orleans Craft Beer Examiner
New Orleans Beer is not only rich in historic facts, but also includes a guide to present-day places New Orleans beer lovers will enjoy.
Haley Adams- New Orleans Magazine
Want to get a-head on the NOLA brewing scene? Chug deep from this info-packed little book.
Lorin Gaudin Where Magazine New Orleans