After a strange and drunken night at the new
Coyote Ugly
in Destin involving fat girls and a mechanical bull Bret wanted to do a bed review. I really wish I could record these and just upload them to the blog. They are much funnier than you read. I can only type so fast and some stuff I probably shouldn't.
Conversations about religion, thongs, men waxing ass cracks and life at the beach took place today. That and Bret being distracted by his wife while she walked around in panties and bra "all day" made for an interesting video chat. We even get a review from Sara. It was a clearly a good day at the Lyttle house. Remember: These are HIS reviews. I only write them down. As accurately as possible. Here they are:
Beer:
Innis & Gunn Oak Aged Beer
Bret: English beers are underrated. This is by far one of my favorite beers.
Aroma-
Nice caramel and toffee aroma. No hop aroma at all.
Taste:
Nice and malty brew with a hint of vanilla. This is what Newcastle wished they tasted like.
Rating:
4 out of 5 Buddhas
Beer:
Sam Adams Summer
Bret: This beer is nostalgic for many reasons. Many I cannot discuss. They are the Dave Matthews of beer. They are not as refined as the rest of the craft beer world. The attention to detail is gone. They have the ability to brew amazing beer but they don't.
We had a nice long discussion about Sam Adams and their ability vs what they actually brew after this comment.
Aroma:
Smells like flat lemon beer.
Taste:
Light carbonation. Light citrus notes. Light hops. Very unimpressive. Tastes very watered down. I would like a little more flavor but it's not bad.
Rating:
3 out of 5 Buddhas
Beer:
Dogfish Head Aprihop
Aroma
- Smells like a urinal. In a good way. (
Disclaimer: Not sure how this is good but this is Bret's review)
Taste-
Sweet citrus note of an apricot. Slight hoppiness. Very well balanced with the hops unlike Sierra Nevada which hops the fuck out of fucking everything. This one is perfectly balanced. Perfect balance of things that should be balanced.
Rating
- 5 out of 5 Buddhas

So apparently they had a Seagrams Escapes Peach Fuzzy Navel sitting around. Thought it would be funny for Sara to review this one. I never asked why this was sitting around their house though. Somehow it seemed fitting she was in bra and panties. Felt like a high school hazing ritual.
Seagrams Escapes Peach Fuzzy Navel (with natural flavors)
Smell
: Smells like peach Gummi-Os
Taste:
SO BAD! Taste like peach Jell-O.
Rating:
Drain pour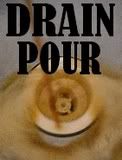 Glad she didn't like this one. Would have hurt my opinion of Sara a bit. I know she likes the good stuff!
Cheers!
The Beer Buddha